Location hotels Rome
Information about
You are about to book a hotel in Rome. We would therefore like to provide you with some extra information. Rome is not only the capital of Italy but also of-, the region Lazio, -and the province of Rome and counts about 2.7 million inhabitants. Additionally, the city used to be the capital of the Roman Empire. Vatican City can also be found in Rome. This is where the Pope lives. The city has a very rich history and is considered to be one of the most important cities of the Western civilization.
Activities in Rome
Rome is full of culture! This beautiful city has numerous historic monuments to offer. Rome also has a lot of museums and theaters. In the vibrant city center you can find excellent restaurants, trendy clubs, cozy terraces and picturesque squares. Most of the cities' highlights are situated within walking distance from each other. This makes it possible to discover Rome by foot. You could start by visiting Rome's most famous highlights; the colosseum, the Pantheon (best preserved antique monument of the city) and the Trevi Fountain. We also recommend you to visit the Vatican Museums. Here you will find the Sistine Chapel which thanks its fame to Michelangelo's world famous frescoes. In the Vatican you will also find Saint Peters Square and the Saint Peters Basilica. Other sites that are a definite a must see are Piazza Navona (a very picturesque square), the Spanish Steps and Via Condotti (a very good shopping area). Furthermore, you could also decide to visit the Castel Sant Angelo Museumor decide to go to Theater dell Opera di Roma. If you are visiting Rome with children, it could be nice to visit theme park Rainbow Magicland or zoo Rome Bioparco and sports lovers could choose to visit a match of local football clubs AS Roma or Lazio Roma in Stadio Olimpico or to golf at Circolo Del Golf Roma.
Getting there
Rome is easily reachable thanks to several highways which are located near the city. In addition, with Fiumicino Airport and Ciampino Airport the city has two big airports which both serve numerous destinations worldwide. The Public transport in Rome itself is very well-organized with a very extensive metro network. Furthermore, the city has several major train stations such as Station Roma Termini.
Hotels in Rome
At this very moment, there are 39 hotels in Rome with availability on hoteliers.com. The offer varies between B&B's and luxurious hotels. Thanks to this broad offer, you will always find a suitable hotel.
Filter your search
Select one or more filters to refine your search.
Hotels in Rome
On this page you will find our selection of hotels in Rome. The prices are per room per stay in the hotel in Rome of your choice.
Sort hotels in Rome on
Last
Next
First
Previous
( 1 of 1 )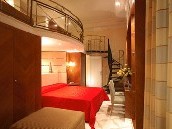 Hotel Opera Roma offers to all its guests exclusive rooms and suites in the historical center of the Eternal City More information
Last
Next
First
Previous
( 1 of 1 )